Joining the bandwagon of homemade Christmas gift ideas, here are a few:
*Mixes in a jar-from cookie mixes to pastas to spice blends in a small jar or ziploc.

*Homemade stationary, gift tags, or card sets. You could include a pen decorated like a flower.
*For little girls, one of those things that you can clip barrettes onto so less of them end up lost. (at least that's the idea behind it...)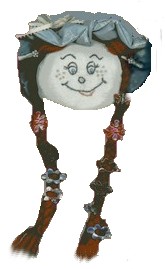 Or this is a cute one, and easier to make:
Or here's another one that sells for 50 bucks!! Can you believe that?!?
*Homemade body scrubs, bath fizzies, lip balms, bath salts, etc.
*an eye pillow with rice or flax seeds and dried lavender inside (flax doesn't smell when heated like rice), or an even bigger "pillow" thing like this to wrap around the neck or shoulders (you heat the pillow in the microwave or freeze it for a cold pack.
That's all I can think of for now, my brain and body are tired. Now if I could just get up the energy to make some of these cute things, I'd be so happy...
Check out
this blog
, or
this blog
for more ideas.